Oh, the sales are on and the snow is beginning to accumulate on the slopes. It is time to get your snowboarding gear ready. But to maximize your snowboarding gear your body should get a tune-up as well with a pre-season workout program.
Taking time to take care of your gear helps it perform better and last longer. The same is true for our bodies. What's worse is that we keep getting old, our careers keep us spending more time working in a cubicle, but our minds keep thinking that we're still 20 years old. Can this keep up?
Lessons from the Expendables 2
Check out the cast of the Expendables …

Sylvester Stalone – age 66
Jason Statham – age 45
Chuck Norris – age 72
Dolph Lundgren – age 55
Arnold Schwarzenegger – age 65
Terry Crews – age 44
Jean-Claude Van Damme – age 52
Bruce Willis – age 57
Randy Couture – age 49
Jet Li – age 33
Seriously, their ages range from 33 to 72 years old.
These guys were the super-hero action figures of my youth and they are still going and going strong. Each of them is proof that if you keep your body in condition you can keep going.
While I think the movie had a very shallow plot it was amazing to watch these guys. They are all in phenomenal condition. The movie was a series of excuses to blow something up, or start another brawl. Perfect to show they've still got it.
Lesson: Keep at the workout program, don't let age stop you.
While most of us will never become action figures, or star on the big screen, but we can still learn from them. These guys have fought off age by continuing to stick to their fitness programs.
When it comes to exploring adventures outside the cubicle the most important lesson is to make sure our bodies are prepared ahead of time. To go shredding we need to repair our snowboard gear as well as our own conditioning.
Maximize your snowboard gear by getting yourself in shape with a pre-season workout program.
Pre-Season Workout Program
I may be getting older, but I want to keep going. I love snowboarding – hiking the backcountry, slicing fresh fields of powder, shredding through tree runs, and carving turns down the hill. To get ready to maximize my snowboarding gear the pre-season workout program needs to address three fundamentals that will get my body in shape:
Snowboard Pre-Season Fundamental 1: Leg Strength
Just like base-repair and a fresh wax on the bottom of your snowboard will maximize the life of your snowboard, it is essential to build up leg strength before hitting the slopes.
Leg training for snowboarding is like base repair for your body.
Much of the time spent on a snowboard is spent in doing squats. Shallow squats, deep squats, or explosive squats.
Just keep doing them all day long. That takes leg strength.
But our work in the cubicle doesn't help us, unless you've adjusted the height of you sit-stand workstation so you're holding a squat position while working.
Train your legs before hitting the slopes. There are two exercises that any snowboarding pre-season workout program should include: squats and lunges.
Squats should make up the core of your pre-season snowboarding workout program. It will build that foundational leg strength needed to keep going.
Lunges help train the legs independently. Plus when you add in several lunge variations to your snowboarding pre-season workout you will help train your legs to adapt to moving in different directions. Include forward-lunges, reverse-lunges, side-lunges, and jump-lunges in your pre-season training.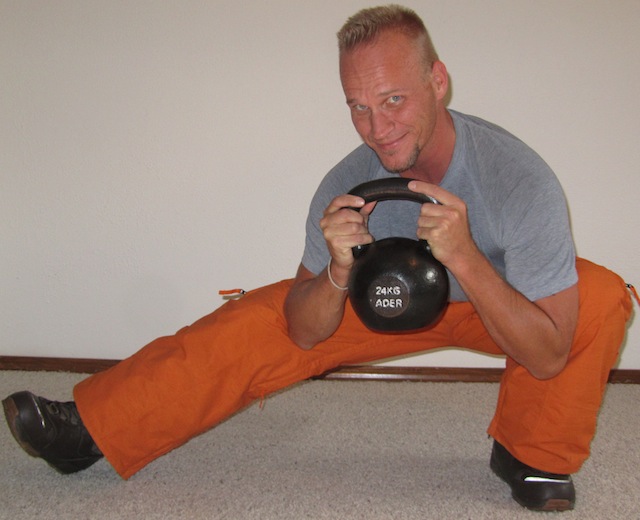 Snowboard Pre-Season Fundamental 2: Explosive Power
Part of the fun of snowboarding is getting some air, finding that pop from the board, flying off a roller, or even kicking it off a jump. To get the most air out of each you'll need to make sure your legs are ready with explosive power.
When you focus on building leg strength you are building your foundation, but your pre-season workout program should include some specific training to help build explosive power.
One word comes to mind for building that explosive power … plyometrics.
plyometrics: exercise involving repeated rapid stretching and contracting of muscles (as by jumping and rebounding) to increase muscle power
Add into your training some form of plyometrics conditioning. That could be as simple as including jump squats, box jumps, jump lunges into your training. The key is making sure that your legs not only have the strength to keep moving, but can move with explosive speed and power. Practice jumping, landing, and jumping again. That will help you prepare for maximizing your snowboarding time on the slopes.
Snowboard Pre-Season Fundamental 3: Cardiovascular Endurance
While conditioning for both strength and explosive power are essential they won't be useful if your heart and lungs can't keep up. To be able to maximize your snowboarding gear this season you'll need to train your body to increase your cardiovascular endurance.
One of the most efficient means of increasing cardiovascular endurance is through interval training.
Finish off your snowboarding pre-season workouts with a tabata training session and you'll quickly build up your cardiovascular endurance.
Maximize Your Snowboarding Gear with Pre-Season Workout
Don't let age stop you from enjoying time on the hill. Take time to prepare. Take time to build leg strength, explosive power, and cardiovascular endurance. That pre-season effort will make your time on the hill more enjoyable and help you last longer.
If you'd like a full program to get you ready check out CARVED – Cut To Shred. This new program is designed to help you with all three fundamentals of preseason preparation.
CARVED – when your body is in better shape, with less fat and more muscle not only will you look better, carved, but you'll be able to slice longer runs through fresh pow, carved.

Cut to Shred
– Get your body in shape to stay on the hill. As snowboarders our minds are flooded with ways to tear up the hill,
shred
. With proper pre-season training your body will be
cut
with more muscle definition to help you pull off each of those moves in your mind's eye. You'll be cut to shred.
Now is the time to find deals on the new gear you'll need, pull out your other gear to get it ready, and prepare your body for days on the slopes.
Do the pre-work and maximize your snowboard gear this season. Add in a snowboarding specific training program to get your body ready.