Does this make me look fat? Seriously we have an obesity epidemic that is having a tremendous impact. With Obama-care coming health care issues will matter. If we don't start taking care of ourselves there will be consequences.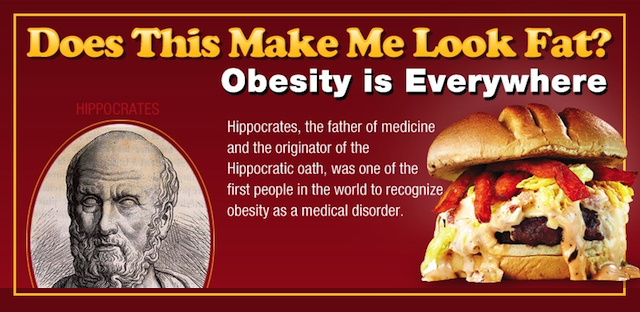 Obesity – The Gateway Condition
Carrying excess weight is a gateway condition to a long list of health related issues. Overweight and Obese people are at higher risk for a conditions including:
Gallstones
Type 2 Diabetes
High Blood Pressure
Coronary Artery Disease
High Cholesterol
Stroke
Abnormal Blood Fats
Cancer
Osteoarthritis
Gout
Breathing Problems
Heart Disease
Congestive Heart Failure
Deep Vein Thrombosis
Pulmonary Embolism
Factoid: 44% of diabetes, 23% of ischaemic heart disease and 7–41% of certain cancers are attributable to being overweight and obesity.
Factoid: Only 1 in 7 obese individuals reaches the average life expectancy of 76 years.
One of the best ways to fight obesity is to burn fat with bodyweight workouts done at home. These can be a great way to start exercising and shrink the waistline, reduce your BMI, and reduce the impact of health risks from carrying too much weight.
Check out my review of Home Workout Revolution and get started today.
Obesity InfoGraphic – Facts To Know

Image source: www.healthcare-administration-degree.net